Corporation Information
VISION
Global Leader Bringing Innovation
for a happier future
Customer
Customer-oriented
Customers' needs and
interests come first
Customers' needs and
interests come first
Creativity
Creative
New technology for improving
the quality of life and new product development skills
New technology for improving the quality of life and new product development skills
Clean
Clean
Willingness and attitude
to practice the code of ethics
of the company
Willingness and attitude
to practice the code of ethics of the company
Challenge
Proactive
Pioneering spirit
of leading changes and creating
a new market
Pioneering spirit of leading changes and creating a new market
CORE VALUES
We Work Hard Everyday to Achieve our Vision Based on Aju's Core Spirit and our Five Core Values.
Talent

Talent Yearning
for Learning

At Aju, we are motivated to constantly learn and acquire new knowledge, skills and abilities. With great pride in our organization, we strive to be the best.

Growth

Growth with
Others

Aju is committed to growing together with our employees, shareholders, and the society as a whole.

Passion

Passion with
Action

Considering failure as learning moments, we embrace challenge, change and do our utmost in every way.

Innovation

Creative
Innovation

We keep our customers at the heart of our business, and drive innobation through reinventing business processes and changing perspectives.

Respect

Respect with
the Warmth Within

Aju fosters a respectful and supportive working environment for its employees, and aspires to grow as a respected company.
Financial Highlights
We will continue to grow reliably
and steadily.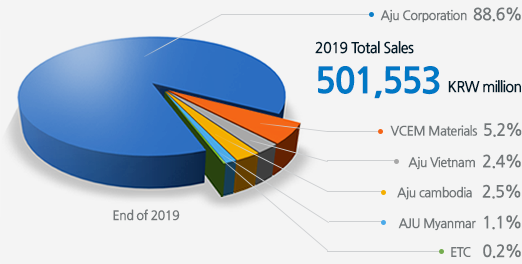 Total Assets

(Unit : KRW million)

2016/ 1,647,035 / 2015/ 1,368,923 / 2014/ 1,048,306

Equity

(Unit : KRW million)

2016/ 1,647,035 / 2015/ 1,368,923 / 2014/ 1,048,306

Total Sales

(Unit : KRW million)

2016/ 1,647,035 / 2015/ 1,368,923 / 2014/ 1,048,306
Find Us
Address & Telephone

Cheongnam Building, 351 Gangnamdae-ro, Seocho-gu, Seoul

TEL. +82-2-3475-9700

Call

By subway

Go to Gangnam Station (Line 2 or Shinbundang Line)
From Exit 5, walk 15m to Chungnam Building (NH Bank on the first level)

By bus

To Gangnam Station
Blue Bus :140, 402, 420, 470, 471
Red Bus : 9200, 9300, 9400, 9404, 9408, 9409, 9410, 9411, 9412, 9503, 9600, 9700

To Suhyup Bank (Seocho Branch)
Blue Bus : 144, 145, 341
Red Bus : 4312,4417,4422,4424