CI Information
SymbolMark Concept
It is a symbol of the status of the world that has succeeded and developed the history of trust that has been cultivated in the pioneer spirit.
The shape of the diamond, which has become a symbolic motif of AJU, is a symbol of faithful and trustful history together with the history of AJU, and it reflects firm and strong corporate image.
A very simple English logo, combined with a diamond shape and form, clearly reveals AJU's identity and helps active communication.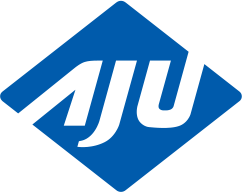 AJU Blue

Spot color printing : Pantone 293c
Four-color process printing : C 100 / M 60 / Y 0 / K 0
web color : R 23 / G 65 / B 154

AJU Gray

Spot color printing : Pantone cool gray 10c
Four-color process printing : C 0 / M 0 / Y 0 / K 70
web color : R 109 / G 110 / B 113
---
CI Download